Employer Letter to President Biden – Let States Sponsor
Immigrants To Meet Their Work Needs
We support American Business Immigration Coalition to advocate for U.S. immigration reforms.
Please sign Employer Letter to President Biden – Let States Sponsor Immigrants To Meet their Work Needs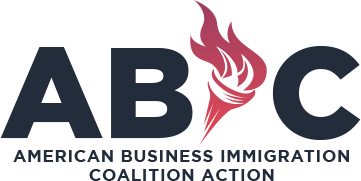 The White House
1600 Pennsylvania Avenue, N.W.
Washington, DC 20500
Dear President Biden, Speaker McCarthy, Leader Schumer, and Leader McConnell,
For far too long, business leaders and employers of small and large operations across the U.S. have been struggling with labor shortages, bureaucratic delays in the processing of visas for foreign workers, and other issues stemming from the outdated immigration system. The recent influx of migrants at the southern border, sparked by the end of Title 42, also underscored the need to update the antiquated visa system so that migrants can apply for lawful status and work permits while the U.S. ensures border security.
Our immigration system is too broken to ignore. Economic and humanitarian emergencies require immediate action, and your administration has the authority to do more under current law. We respectfully request that you expand a special category of immigration permits for individuals who can fill positions facing a labor shortage, for people migrating to the U.S. and for long-term immigrant contributors like Dreamers, farm workers, and essential workers.
One plan advanced by Republican governors Eric Holcomb of Indiana and Spencer Cox of Utah would allow states to "sponsor" immigrant workers. With that authority, states could decide how many visas are needed each year for specific jobs. U.S Senators Bob Menendez Employer Letter to President Biden – Let States Sponsor Immigrants To Meet Their Work Needs Contact Information (D-NJ) and Dick Durbin (D-IL) support the idea, as does New York Governor Kathy Hochul.
The need for immediate action is underscored by economic data and reports from employers who are suffering losses due to worker shortages. In March, the Bureau of Labor Statistics reported that there were almost 9.6 million job openings. Economists have estimated that two years of lost immigration is responsible for nearly half of the workers missing from the labor force. In May, the U.S. Chamber of Commerce showed that between 20 and 60 percent of jobs remained unfilled in key work sectors including manufacturing, wholesale and retail trade, financial services, professional and business services, and leisure and hospitality.
Business owners and industry leaders must be able to hire migrants who want to work in the U.S. and contribute to our economy as they try to better the lives of their families.
Already, this idea is receiving national and local media attention. The Hill just covered it, leading with, "A coalition of business leaders is stepping up pressure on the Biden administration to use all means at its disposal to issue more work visas as labor shortages threaten to cripple a variety of industries." Other outlets that have run op-eds or reports on the growing call for this solution include Newsweek, The Miami Herald, Axios Chicago, Dallas Morning News and Phoenix Business Journal.
With congressional action on permanent immigration reform gridlocked, we look to your administration to expand the use of visas under current regulations and give states the authority to act on their workforce needs, so that migrants are treated humanely and businesses can rev up the engines that drive state and national economies.
Sincerely,